Post by The Geek on Skates on Mar 3, 2021 4:07:35 GMT
The "fun retro tech"

When I was a kid, I used to have what everyone called a "V-Tech"; it was basically one of the early CCTVs. I put my school textbooks under it, and I could zoom in and out to see things better. Of course nowadays computers have this kind of magnification built-in (even mobile devices) but back then the V-Tech was cutting edge. It was a massive machine with a tray under it (to put the books on) and a CRT monitor above. I couldn't find a picture of what they looked like back in the day, but here's what the modern ones look like: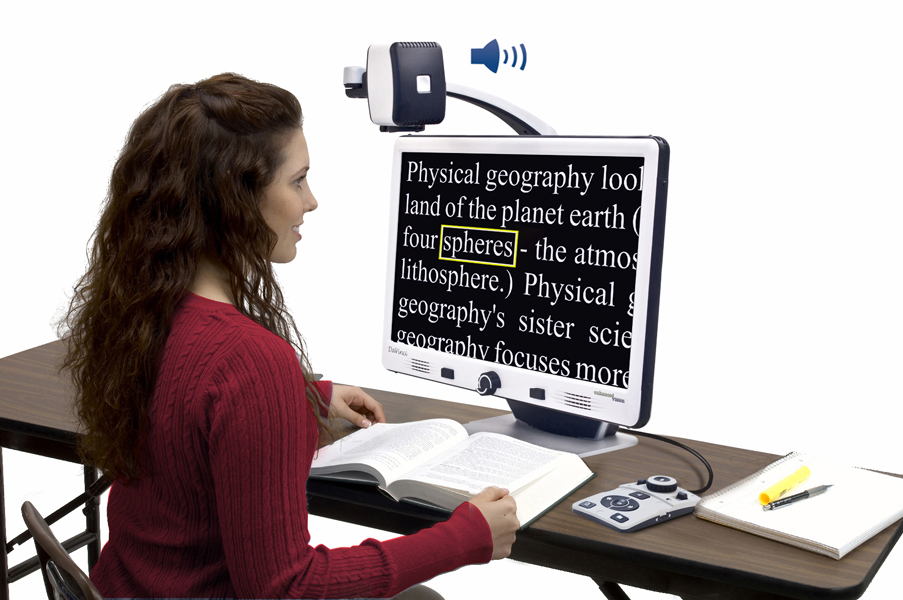 I haven't seen one in years, until I started going to our local library. They have an old CCTV (not V-Tech brand, something called a "Merlin") and I've been using it to read not-large-print books. Sure I could just use the magnifier app on my phone, but:
I spend way too much time staring at my phone already
I didn't want to drain the battery, and
I just got nostalgic. Old-school problems require old-school solutions.

What's this got to do with emulators?

Glad you asked.
So this "newer" model had one thing my old V-Tech didn't: color. So I got to thinking, what would happen if I put my phone under this gizmo? Well, for most things, it didn't do what you'd think. The picture was way, way too bright to do anything meaningful with it. I tried the JavaScript VIC-20 emulator on it and it was barely usable; of course these CCTVs were never designed for this, so that makes sense. But then it dawned on me: This might work really well with the
JavaScript PET emulator!!
And OMGosh was it amazing! I've never seen a real PET, but this was exactly how I imagined it. It had that warm, inviting flicker of a CRT monitor, and with my Bluetooth keyboard I was writing BASIC in no time! Now I kind of want to get back into building games for the PET, and score a copy of "PETSCII Robots", cuz holy guacamole this was so cool! And unlike a real PET (or so I expect), I can actually read it! I can zoom in with the CCTV or with my phone, and move the tray (or the phone) around when the cursor goes off-screen. This is exactly the kind of thing I wish real retro systems had (ooooohhh, new idea! When my own "emulator" is finished, I gotta put it under there
). But anyway, like I said, this is hands down the coolest emulator I've used (apart from TheVIC20 of course) cuz now it's the best of both worlds (modern magnification + retro display). I could get used to this!

And thinking about it now, even the old V-Tech had settings, like brightness and contrast, and probably a black-and-white mode. I bet with a little tinkering, I could get the VIC-20 or C64 working with it too. Of course if all I want is BASIC, I can do a few POKE statements and make the VIC or C64 any color I want... for other programs, I think the C64 might have a better chance, cuz it has the darker background... but then again the VIC-20 emulator has built-in games... sorry, thinking out loud (or thinking in text?
).
Regardless, my point is, if you're ever at a library, they probably have a device like this available. And if it happens to be one from the 80s, like the kind I grew up with, and they're cool with you using it (which they should be), my friends you are in for a treat! Of course if all you do is go there and play video games that's probably not something they would appreciate (and if you play something with sound, use ear buds), but since I only go there once a week for a half hour or so, I think I'll be okay.
But all joking aside, this Blast from the Past just made my night!
PS: If anyone's interested, I'll see what I can do about getting a pic next week. Maybe I can bring my iPad or something.